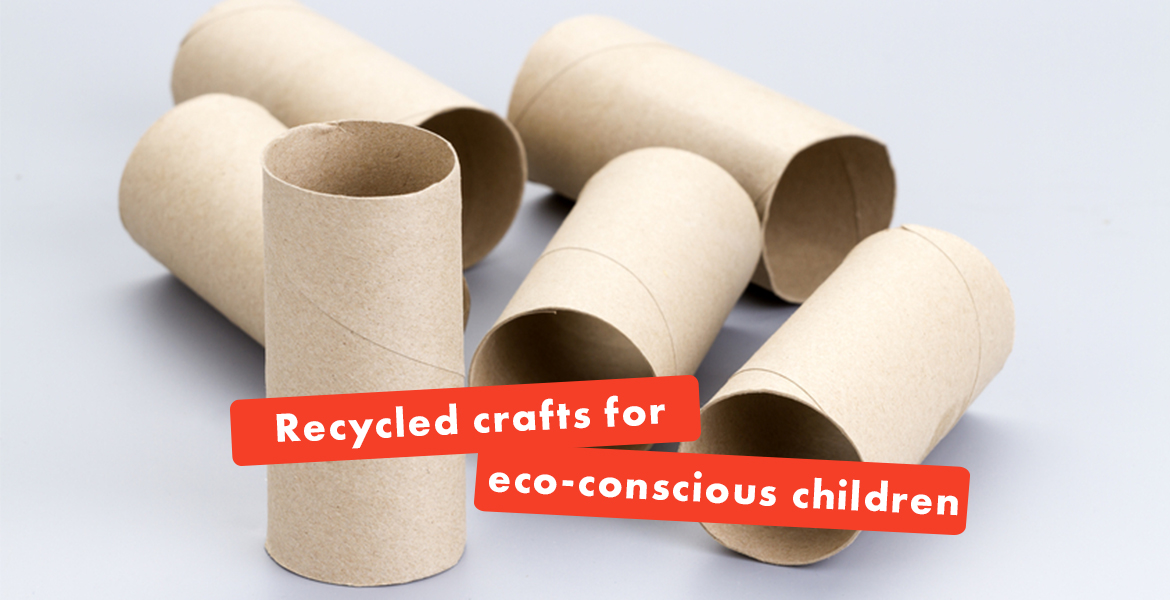 Recycled Crafts: Sustainable Activities to Raise Eco-Conscious Kids
When it comes to young children, it's important to teach them about the environment and being kind to our planet. And what better way to do this than through play?
Raising an eco-conscious child isn't always easy – but make no mistake: to recycle what you're already recycling and get creative with it is a proven method of ensuring they'll learn. As the saying goes, 'Waste not, want not.' Think about how to turn your everyday recycling into a fun-filled family activity that creates a newfound sense of understanding and respect for the natural world and all it does for us. Not sure where to start? OKIDO is here to inspire both you and the next generation of young scientists!
Raising Awareness of Sustainability in Young Children
Odds are your child already has some grasp of the environmental issues facing our planet today. The recent climate strikes united young people across 128 countries, consequently giving children more opportunities to ask questions about the current state of the world and how we can all work together to make things better in the future.
Young scientists deserve to be shown new ways of caring for the environment, and this starts with sustainability – at home in particular.
Cutting back on plastic is certainly a step in the right direction towards green parenting, which OKIDO is all for. And, of
course, there's recycling. We've made great strides, but we can still do more. That's why teaching young children about the concept of sustainability is so vital.
Recycling Projects Ideas
Recycling activities are as versatile as they are fun, given that the only limit is your imagination. Projects made from recycled materials can include cereal boxes, paper towel rolls, corks, egg cartons, jar lids and more. Here are just some ways you can use these everyday recyclable household items to teach your children about the importance of sustainability:
Let's Make a Car
What do cereal boxes, milk bottle caps, and straws have in common? Other than being recyclable, they can all be used to make a car. Assemble with your child in a few easy steps and you'll be ready to race each other around the living room. Don't forget to customise with additional sustainable items as well!
Cut the straws to about the width of the box. Cut the skewers a few centimetres longer than the box.
Insert a skewer into each straw, like this.
Make a hole in the centre of each bottle cap with the pointy end of the skewer. Ask an adult to help.
Press the bottle caps onto the skewer ends.
Fix the straws onto the box with sticky tape
Turn the box over and – ta-daa! You have your moving vehicle
Egg Box Animal Masks
Got any old egg boxes lying around? Collect them up and make some animal masks. With both shallow and pointed sections as a guide, you should encourage your child to think about all the cool creatures they can be – and to find out what's their favourite too! Inspire an interest in wildlife and sustainability with this animal-themed activity perfect for curious young scientists.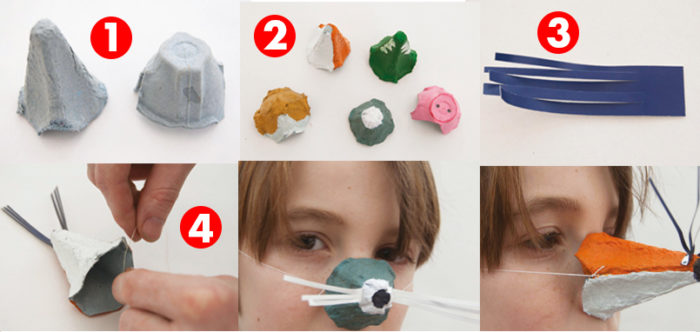 Cut the egg box into sections. You can use both the shallow and pointy parts for different animals.
Paint each nose and when dry, draw on details like nose, nostrils and teeth with a pen.
For animals with whiskers, use the thick paper to cut them out. Then glue them onto the nose.
Prick a hole on each side of the nose. Then thread the string through and tie it in a knot.
Let's Be a Robot
If you find that your family goes through an obscene amount of toilet roll or cardboard boxes, then perhaps a robot-building session is in order. All you need are stiff paper, glue, and scissors to get started! Feel free to be as decorative as you like with your creations, but make sure you only use sustainable materials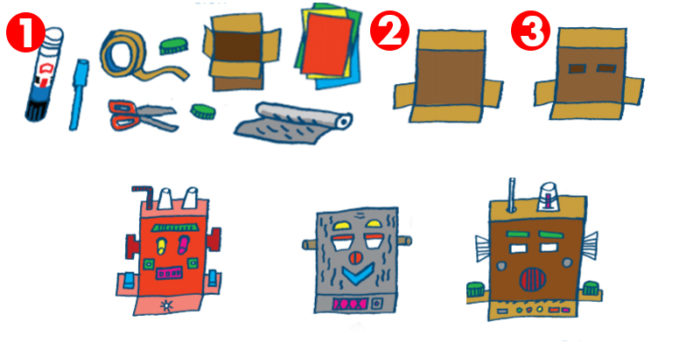 You will need: Glue, colouring pens, tape, scissors, cardboard box, coloured paper, foil, funk and recycling stuff
Take your box and turn it upside down
Ask a grown-up to cut some eye holes – now you've got your robot head
Then decorate your robot! There's some ideas in the picture but you can use many more things.
If you're looking for more recycling projects ideas that'll keep your children entertained, OKIDO magazine has plenty of STEAM learning activities that they can have fun with and learn at the same time. Giving young scientists the chance to explore and understand the natural world is important, but you'll definitely want to get creative with how you go about it. Cultivate a passion for the environment and for sustainability in your family with our recycling-themed crafts inspiration!