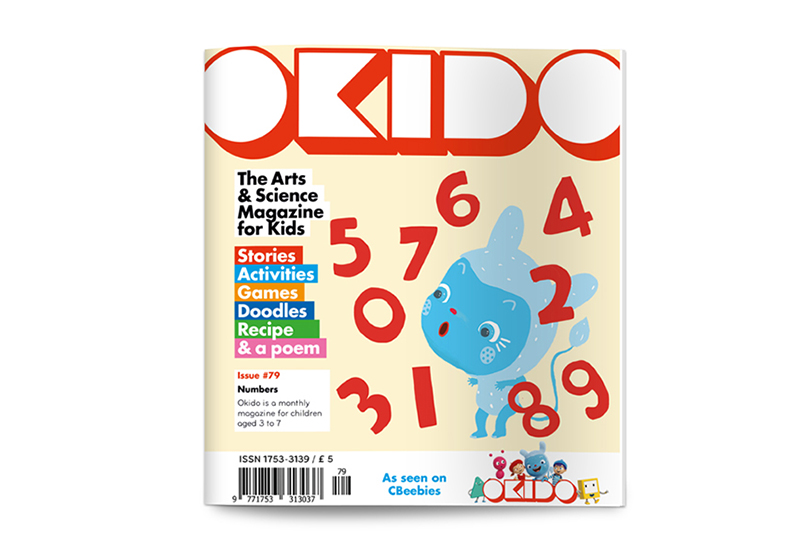 January OKIDO Magazine Highlights
OKIDO helps young children learn through play. It is full of stories, activities and games that stimulate creativity and inspire scientific interest.
The January Issue of the OKIDO Magazine explores the calculating world of numbers!  Mathematics is important for early years learning because, as well as basic numeracy, it allows children to develop their problem-solving skills by helping them recognise, describe and create patterns. Introducing mathematics to children from an early age helps to develop their understanding of all elements of problem-solving and reasoning.
What's more, it helps children understand shapes and how they can be used and develops their spatial awareness. We ensure our readers are engaged and motivated through stories, puzzles, games, and activities that they can do on their own or with the family.
Here are some highlights from this month's Issue:
Messy Monster discovers how much he loves numbers – page 4
Zim, Zam and Zoom help Geoofrey run his café – page 8
You can learn to tally numbers – page 12
Read "How many tatus?" – page 14
Meet some numbers with Mochi Cat – page 16
Read the "Who ate all the sandwiches" poem – page 18
Have fun connecting the dots – page 29
Start sequencing with pasta! – page 30
Draw the lines of a giant dot-to-dot – page 32
Play Number Bingo – page 34
Find Foxy in a world of numbers – page 38
Have fun and learn with Kaz – page 44
Colour by numbers – page 46
Colour in and doodle-do! – page 21 to 28
If you're not already a member of our monthly OKIDO Magazine – then click below to subscribe.