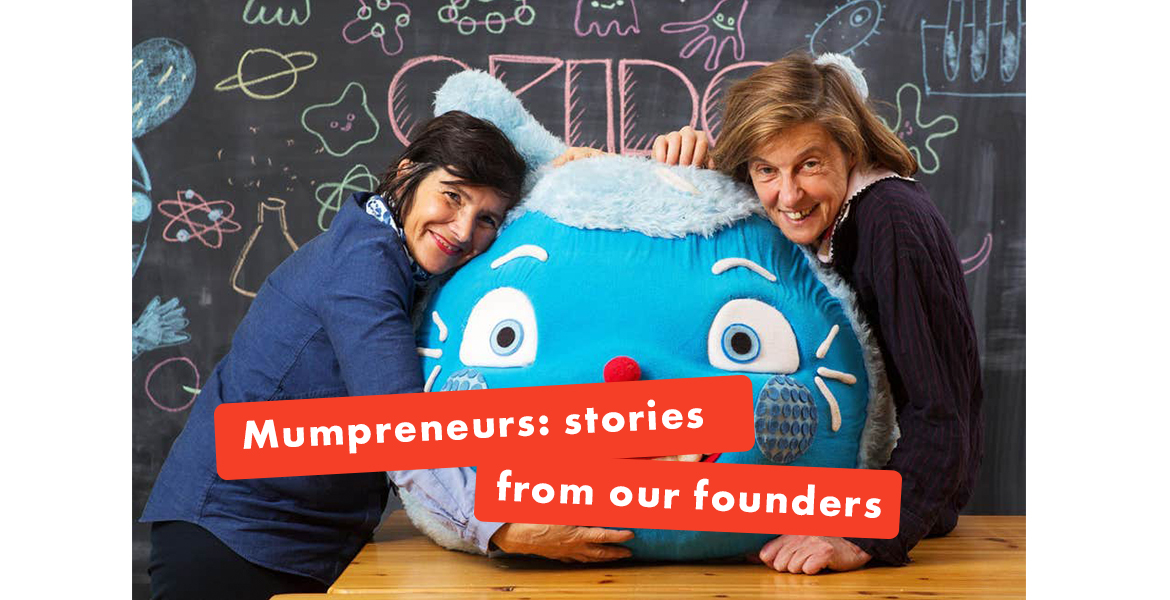 Mumpreneurs: Success Stories from Our Friends & Founders
Many of us dream about running our own business, but when we have children, the flexibility that comes with working for ourselves is a real draw. The 'mum economy' –which refers to businesses run by mothers with children under 18 – is booming. In fact, it's estimated that these businesses will generate £9.5 billion for the UK economy, and create 217,600 jobs by 2025. Technology has made it easier for enterprising mums – or mumpreneurs – to start their own businesses at home; with just a laptop and a decent Wi-Fi connection, it's doable.
OKIDO: A Company Built by Mumpreneurs
Back in 2007, OKIDO founders Sophie Dauvois and Rachel Ortas produced the first copies of the magazine from their flat in Brixton, armed with little more than a trestle table and the ambition to create a new kind of periodical for young children and their families. It took the duo and their team eight months to create the first issue; today, it takes just four weeks to complete each one. OKIDO's beloved characters are bona fide TV stars now too, thanks to the launch of Messy Goes to OKIDO. Well, you know what they say; from small seeds grow mighty trees!
Top Tips for Mumpreneurs
Running a business whilst raising a child doesn't come without its challenges, but there are a few things you can do to become a master mumpreneur.
Play to Your Strengths
Whether you've got an idea for your business in mind or not, it's important that you identify your skills, expertise and strengths, and think about how you can apply these to your work. OKIDO founders Sophie and Rachel have backgrounds in science and the arts respectively, so it makes sense that they'd go on to create something that brings these disciplines together. Sophie had completed two science PhDs before moving into education; Rachel worked as a lecturer and artist-in-residence at Central Saint Martins. OKIDO was – and still is – shaped by their talents.
Identify a Gap in the Market
Most mumpreneurs start out by coming up with solutions to problems that they themselves have faced. The idea for OKIDO came after a three-week holiday in Marrakesh, where Sophie and Rachel spent much of their time re-reading the same book to their (then pre-school aged) son, Emil.
Noticing a lack of children's magazines that managed to combine high quality content with beautiful design, they sought to create their own. Most magazines for that age group were gender- stereotyped; they flogged cheap, plastic toys, and were printed on glossy paper (which couldn't be drawn on very easily). 'I thought kids deserved better,' says Sophie.
When starting out, it's important that you do your research too. Look at your competitors, and think about how your product or service sets you apart from the rest. If you can't find any direct competitors, think about why – how feasible is your idea, and how do you intend to turn it into a reality?
Set Your Working Hours
Parenting doesn't always run like clockwork. Children can get sick; they need to be entertained during the school holidays; sometimes, they just want a little TLC (who doesn't?). But it's very easy to allow your business to take over, which can leave mumpreneurs racked with guilt.
Work out how much time you'll need to spend on your business – and on your family – in terms of hours, not days. By divvying up your time this way and taking a more flexible approach to your schedule, you'll be able to handle anything unexpected more easily. Be realistic with your time, and be kind to yourself. Try not to feel guilty for not being with your child when you're working, or vice versa. 'It's nonsense that mothers are made to feel bad about working and looking after their young kids in whatever style they do,' says Sophie. No-one has all the answers, and no-one "gets it right" all of the time. Don't get too hung up on setting a strict routine; life will always find a way to shake it up anyway!
Use Your Contacts & Get Support
When she co-founded OKIDO, Rachel and her daughter Sabrina (who worked in the café at Central Saint Martins) tapped into a pool of illustrators from the university. It's important to reach out to your contacts and find support from others. If you've never had any business experience before, it may be worth finding a mentor to guide you, especially at the start.There're are support networks for mumpreneurs all over the world, and most take great comfort in this. Working from home can be lonely, so it's crucial that you find ways of connecting with other people who're in the same boat. If you're struggling through the 'terrible twos' whilst trying to launch your brand website, it really helps to have people in your life who just get it.
Find Investment Opportunities
It's crucial that you have a plan for your business, and this includes thinking about how it's going to be funded – both in the long and short term. It's always best to start within your means, and then work up. Sophie and Rachel launched OKIDO using £5000 of their own savings. The company then received two Wellcome Trust awards (worth £140,000) and a distribution deal, which saw the magazine being stocked at Waterstones and WH Smith. There are plenty of opportunities for funding, from Kickstarter pages to business loans; it's about finding what's best for you and your business. And once you get going, remember to keep on top of your financial records. If you're not confident with this, consider hiring an accountant; sometimes, tax returns are best left to the professionals!When it comes to launching a business, there's always lots to consider – whether you're a parent or not. But for modern mumpreneurs, taking on the challenge has allowed them to be masters of their own ship, and allowed them to support their children emotionally and financially. For our founders,
OKIDO is (and always was) much more than just a business. So if you've got an idea that you're just as passionate about, be brave and set it free! You never know, it might just take off.