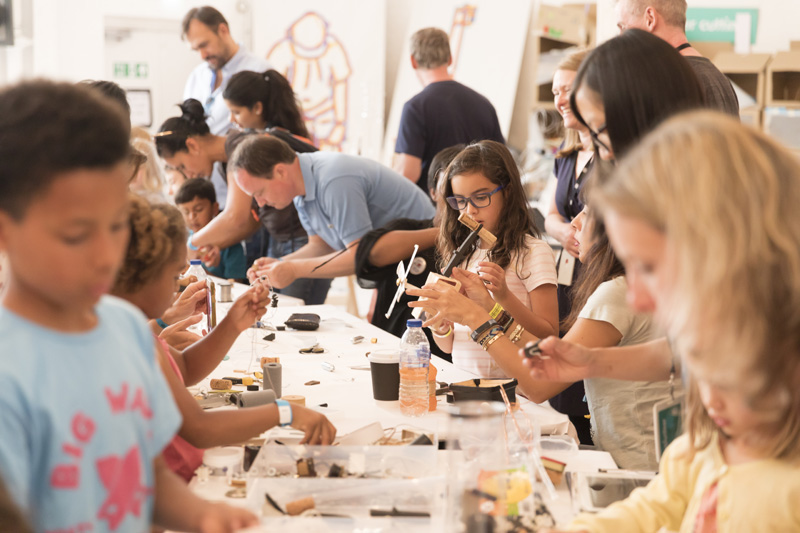 You're invited to our S.T.E.A.M. fair – Lab Live: Why oh Why? 
OKIDO and the institute of imagination have teamed up for an extra special Lab Live. Instead of one day, we're running Lab Live over two days – so you've got double the chance to come and join us for all the tinkering and experimenting you can handle!
At Lab Live: Why oh Why?, we'll be asking the MOST important questions, for young inventors and explorers to come up with the answers. 
What can I expect at Lab Live?
This Lab Live aims to inspire the next generation of scientists, makers and inventors by asking questions and providing hands-on activities to come up with the answers! Through posing some simple questions about everyday science, each activity will give children the chance to experiment, build, create, invent or explore different outcomes.
The event is all about S.T.E.A.M. and how combining S.T.E.A.M. subjects can help children to use and stretch their imaginations for creative and inventive outcomes.
What can I explore:
Science – play with experiments and reactions
Technology – get hands-on with technology like coding and electronics
Engineering – design and build, think about movement and mechanics
Arts – get creative and mix up materials, movement, sounds and crafts
Maths – numbers can be fun! Find out how to use simple maths in creative thinking
You will be able to explore over 20 activity stations, which will use different 'science questions' to generate experiments and activities. Each activity will use a different S.T.E.A.M. subject at its heart, but get children thinking about and combining lots of skills and approaches.
What is my habitat? Use shapes, colours and collaboration to create an animal and learn about its habitat with SquareEgg illustration collective.
What am I made of? Learn about atoms with OKIDO.
Why do I fall? Learn all about gravity and then come and explore its effects in our giant gravitation area with OKDIO. Make your own Messycopter to take home.
How do I work? Have you ever built a robot to clean the ocean floor or explore new planets? Immerse yourself in the exhilarating world of robotics and technology with EasyCoding Club.
How can you make something move? with Ozobots & Cubetto.
Why do I fly? Learn about the aerodynamics of flight with an Aeronautical Engineer, make a paper aeroplane and fly it in our wind tunnel. (Sunday only)
Why do I dream? Have you ever wondered about the science of dreaming? Come and find out whilst also making your very own dreamcatcher to take home.
Why does sound travel / Why Do I hear? Come and explore the science of sound vibrations with OKIDO then make your very own portable sound machine.
How do robots move? Create a robot from Lego and then put it to the test with the use of motors. Can yours do the robot dance? Learn all about forces and motion with CodeKids.
What causes lift-off? Fancy being an astronaut for a day? Come and build your very own rocket ship then launch it into space with our home-made rocket launcher.
How does it work? Build the future with e2 Young Engineers! Learn how a belt transmission works, a principle that is used in supermarkets and airports, among many other places.
How do creatures survive in nature? We will be using Hexbugs to explore habitats and how creatures live. There will be building of environments, dens, tunnels, community and play spaces, food areas and more for the bugs to live in and explore what is needed for survival.
What's inside my body? Have you ever wondered what is inside your body? Come and explore with OKIDO's X-Ray Glasses then make your own to take home.
Why do I move? What makes us move when we swim, when we dance, when we play? mama.codes will be exploring the concept of movement with their creative coding activities.
How can robots clean the planet? Build your own Cleaning Robot from Lego and code it to remove plastic from the themes.
How does sound affect your emotions? Explore how sound influences your experience of a video and create your own.
Lots more still to be announced!
When is Lab Live?
Lab Live: Why oh Why? takes place on Saturday 29 and Sunday 30 September. There are morning (10:00am-1:00pm), afternoon (2-5:00pm) and all day tickets available on each day. You can attend on either day, the same (or very similar) activities will run on both days.
There will be an hour break between 1-2:00pm between the morning and afternoon sessions. Those with morning only tickets are welcome to stay for lunch, but will need to leave the Lab by 2:00pm. Those with afternoon tickets are welcome to arrive at 1:00pm for lunch, but activities will not begin until 2:00pm.
Who is Lab Live for and how much does it cost?
This event is ideal for children aged between 3-10 years old and their families, friends and carers. Please note, all children must be accompanied by an adult.
Children under 3 are welcome to attend and you need to register them for an 'under 3' ticket, which is free of charge. Please note, activities are aimed at children 3+ so there will be limited activities for very young children to take part in.
Tickets cost £7 for a half day and £12 for a full day. All activities can be enjoyed as part of the ticket price, but some stalls and activities include an enhanced or take-home option, which is paid.
If you're a Lambeth resident, you're eligible for free tickets on a first come first served basis. You can receive notifications about when free ticket codes are released by signing up here or you can email us at hello@ioi.london to request the code.
Is there food and drink at Lab Live?
There will be hot drinks available to purchase throughout the day and a lunch break between 1-2:00pm, where a street market vendor will be on site selling food. Those with morning only tickets are welcome to stay for lunch, but will need to leave the Lab by 2:00pm. Those with afternoon tickets are welcome to arrive at 1:00pm for lunch, but activities will not begin until 2:00pm. As always, we welcome you to bring your own food, which can be eaten in the Lab.