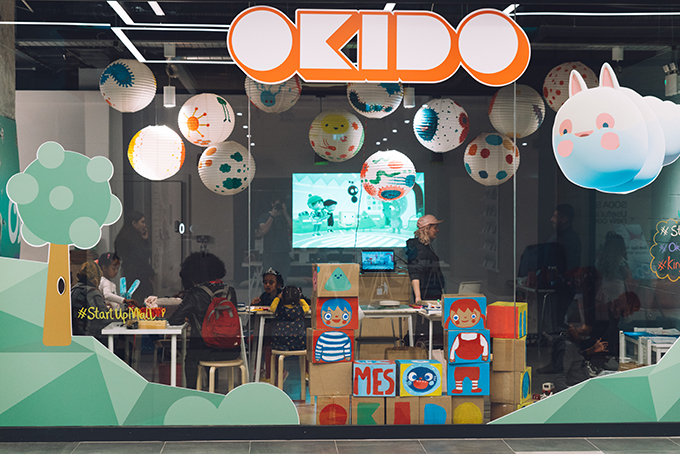 We have opened THE WORLD OF OKIDO, a pop-up shop and workshop zone, at Kings Mall in Hammersmith. THE WORLD OF OKIDO is fast becoming a hub of STEAM learning for children of all ages!
Some activities we offer are:
Build a vehicle: Your child uses cardboard and bottle tops to build a vehicle they design. We learn about different types of fuel.
Animal masks: Your child will create a paper plate animal mask of their choice. We learn about predator vs prey, different animal features, evolution and the food chain.
Weather Vane: Your child will build a weather vane our of arts & crafts materials. We learn about different types of weather, their importance and forces.
Salad Spinner Art: Your child will use pipettes to put droplets of paint on a paper plate. We then use salad spinners to apply force to the plate to create a colourful piece of art. We learn about forces and colour combinations.
Catapults: You child builds a small scale and a large scale catapult using various materials that you can find at home or in the supermarket. We learn how levers work, forces, how mass affects distance and basic engineering principles.
PLUS LOADS MORE!
Please note that only children need tickets, not adults. 
Weekend Workshops
We offer workshops every Saturday and Sunday at 11am, 12:30pm and 2:30pm.
Mobile Planetarium
Saturday 11th of January and Sunday 12th of January 2020
Join Explorer Dome South East for a fun day of science, stories and tours of the night sky – all inside our unique mobile planetarium.
Learn about the awe and wonder of space: a story-telling, interactive introduction to the earth, moon, sun and stars. With beautiful visuals and lively presenters – we teach children (and adults!) to recognise that the sun is a star, find out why the sun moves across the sky, look for different phases of the moon, and discover how to spot the pictures and stories in the stars.
Tickets cost £5 per person. Please purchase one ticket per attendee (for adults and children), as we have limited space inside the dome.
Shows are suitable for ages 5-12. They will last 40 minutes and take place at 11am, 12pm, 2pm and 3pm. Please arrive 10 minutes early, to allow us to get everyone checked-in and welcomed. Latecomers may not be admitted.
Where and When to find us
We are open Tuesdays to Saturdays (closed Mondays) from 9.30 to 6.00 and Sunday from 10.30 to 5.00.
King Street Mall,
King St,
Hammersmith,
London,
W6 9HW