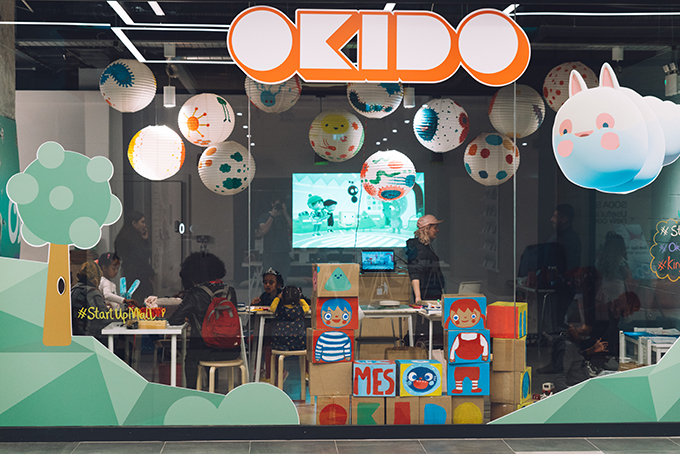 We have opened THE WORLD OF OKIDO, a pop-up shop and workshop zone, at Kings Mall in Hammersmith. THE WORLD OF OKIDO is fast becoming a hub of STEAM learning for children of all ages!
Some activities we offer are:
Build a vehicle: Your child uses cardboard and bottle tops to build a vehicle they design. We learn about different types of fuel.
Animal masks: Your child will create a paper plate animal mask of their choice. We learn about predator vs prey, different animal features, evolution and the food chain.
Weather Vane: Your child will build a weather vane our of arts & crafts materials. We learn about different types of weather, their importance and forces.
Salad Spinner Art: Your child will use pipettes to put droplets of paint on a paper plate. We then use salad spinners to apply force to the plate to create a colourful piece of art. We learn about forces and colour combinations.
Catapults: You child builds a small scale and a large scale catapult using various materials that you can find at home or in the supermarket. We learn how levers work, forces, how mass affects distance and basic engineering principles.
PLUS LOADS MORE!
Please note that only children need tickets, not adults. 
After school workshops
We offer an after-school workshop at 4pm every Tuesday & Wednesday during term time.
Weekend Workshops
We offer workshops every Saturday and Sunday at 11am, 12:30pm and 2:30pm.
The Crafty Robot: Saturday 19th October and 16th November.
Technology and Engineering, ages 3+, tickets £5
Get crafty and creative building your own moving robot from craft materials or potatoes (and other vegetables)! Learn to design through experimentation and iteration and get hands-on with real engineering principles like weight distribution, torque, and electric circuits.
The Crafty Robot makes fun, sustainable robot kits that help you get creative with technology. Re-use Smartibot and Fizzbit to invent robots of your own.
Daily schedule:
11am – Fizzbot Workshop
12:30 – Botato Wars Workshop
2:30 – Fizzbot Workshop
4:00 – Botato Wars Workshop
Where and When to find us
We are open Tuesdays to Saturdays (closed Mondays) from 9.30 to 6.00 and Sunday from 10.30 to 5.00.
King Street Mall,
King St,
Hammersmith,
London,
W6 9HW