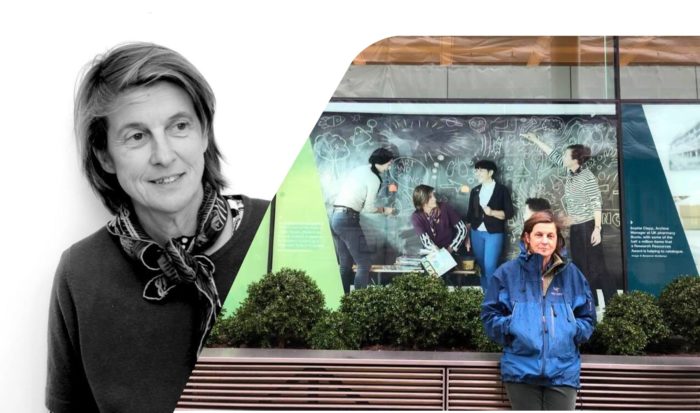 Our resident scientist – Sophie Dauvois, PhD
Name:   Dr Sophie Dauvois, PhD
Hometown:  Greneville en Beauce – a village in France of around 200 people
What made you want to be a scientist?  I always loved exploring nature, dismantling my toys, grow some mould on old bread and raising lots of rabbits. Then I had a very inspiring Biology teacher who introduced me to ask HOW and not WHY? and at that moment I think started my scientific journey
What is your favourite topic in science?  Biology, Microbiology and Genetics – the smaller the better!
Why can I see the moon during the day?  The Moon is there all the time, it goes round and round the earth and we can't always see it – We see it when it's on our side of the earth and illuminated by the sun.
How are rainbows made?  Light is made of colours, a rainbow is an occasion where we see the light separated into 7 colours
How do flies walk on the ceiling?  Sticky feet
What's your favourite colour?  The OKIDO colour palette including the Messy Monster blue!
If you were to become an animal, what would you be and why?  I am an animal as all humans are
Sophie is our resident scientist, co-founder and editor of the monthly arts & science OKIDO Magazine.  Sophie and the team try to bring children the best in informal learning through play but also make sure the magazine is produced as environmentally friendly as possible.   OKIDO stimulates the scientific curiosity and appetite in children by offering stories to read as well as activities to do in and out the magazines. Each issue of the magazine is themed and introduce children to a scientific subject in many different ways from stories, activities, recipes, jokes, songs and experiments.  The successful TV series Messy Goes to OKIDO is based on the magazine, and it is available to watch on Netflix and CBeebies and much-loved by families around the world.
If you would like to subscribe to receive the monthly OKIDO Magazine – CLICK HERE.